---
Project Timetable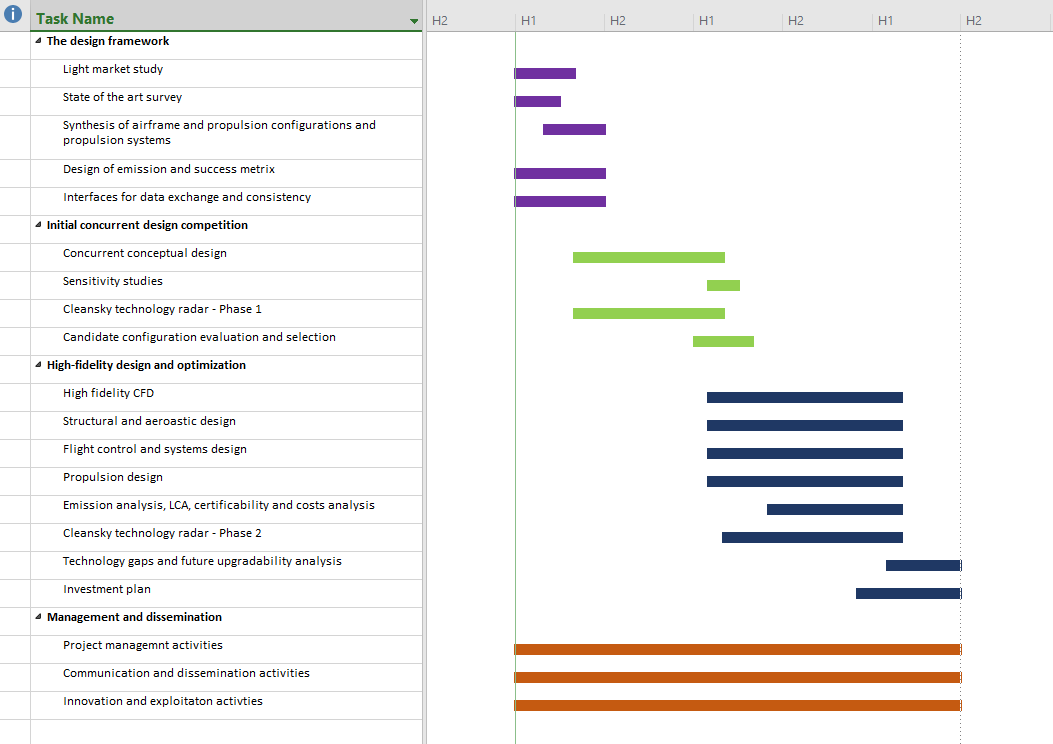 ---
Work Package 1
Objectives
This work package aims to defining
the potential markets for the UNIFIER19 aircraft family;
the set of mission requirements, design constraints and other applicable specifications;
the set of applicable airframe and propulsion architectures;
a new performance metric to be applied to the design solutions carried out in WP2.
This shall set the basis for the subsequent design loops, providing a clear framework for the development and the assessment of innovative concepts for the miniliner and microfeeder roles.
In order to ease the capability of the consortium partners to cooperate in exchanging and cross-checking design data, a specific data interface definition shall be carried out.
Tasks
Task 1.1: Light market study
Task 1.2: State of the art survey
Task 1.3: Synthesis of airframe and propulsion configurations and propulsion systems
Task 1.4: Design of emission and success metrics
Task 1.5: Interfaces for data exchange and consistency
---
Work Package 2
Objectives
In this work package, low- and medium-fidelity models will be initialized starting from the reference mission and the operating requirements identified in MS1 (WP1, at M6).
Most of the design activities will be carried out in a concurrent manner by POLIMI and TUDELFT, whereas PVS will provide preliminary costs estimations, manufacturing complexities, integration solutions and specific performance of propulsion subsystems (e.g. integration of battery into airframe and battery efficiency under wider variety of power demand).
As output from those conceptual loops, two candidate aircraft configurations, one by POLIMI and one by TUDELFT, will be proposed. Sensitivity analyses will be performed depending on performance requirements and technology- and market-related parameters, thus helping in the assessment of the candidate solutions according to the metrics developed in WP1.
Eventually, a PDR on the two proposed configuration will allow choosing a winning configuration, thus achieving MS2 at M16.
Tasks
Task 2.1: Concurrent conceptual design
Task 2.2: Sensitivity studies
Task 2.3: CleanSky technology radar – Phase 1
Task 2.4: Candidate configuration evaluation and selection
---
Work Package 3
Objectives
WP3 aims at finalizing the preliminary design of the selected configuration evaluating aerodynamics, structure and aeroelasticity, stability and control, and propulsion, at higher level of fidelity, in view of performance verification and possible optimizations. Concurrently, emissions, life cycle, certification, and costs shall be assessed in detail, in order to meet both sustainability and marketability aspects. The overall design is brought to maturity by an array of studies focused on the future upgradeability and marketability of the UNIFIER19 concept.
Tasks
Task 3.1: High-fidelity CFD
Task 3.2: Structural and aeroelastic design
Task 3.3: Flight control and systems design
Task 3.4: Propulsion design
Task 3.5: Emission analysis, LCA, certifiability and costs analysis
Task 3.6: CleanSky technology radar – Phase 2
Task 3.7: Technology gaps and future upgradability analysis
Task 3.8: Investment plan
---
Work Package 4
Objectives
The aim of this WP is to establish efficient and quality project, communication and knowledge management ensuring that the project objectives are effectively met within the given time, scope and budget resources of the project. Specific objectives are:
Efficient and effective project, knowledge management;
Clear identification of intellectual rights and appropriate protection measures;
Adequate management of potential risks and conflicts;
Good internal and external communication management;
Effective and efficient progress reporting;
Appropriate financial management and controlling;
Efficient and effective dissemination, communication, exploitation strategy;
Efficient dissemination, communication and exploitation planning;
To establish efficient monitoring and evaluation of dissemination, communication and exploitation activities;
Clear identification of exploitation opportunities and standardization issues.
Tasks
Task 4.1: Project management activities
Task 4.2: Communication and dissemination activities
Task 4.3: Innovation and exploitation activities
---